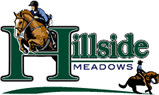 We have an amazing fleet of school and show horses owned and loved by HMEC and staff. Each one has their own unique talent, whether it's quietly supporting beginners or taking a competitive ride to the next level. Meet some of our popular "farm" horses!
Baxter
Baxter is our heard leader here at HMEC. He has taught hundreds of young (and not so young) riders the ropes in the early stages of english and western riding. He is a very well known IEA horse, and has brought many to nationals. If you are looking for a confidence boost and a safe horse this is you man. We know you'll love him, everyone does!
Undercover Beau
Beau is owned and loved by Marcy Segel, Beau is one of our most popular lesson mounts. Loves kids and adults, enjoys a good jumping session or a hack in the woods. He also frequents at many
schooling shows!
Bombay
Bombay is our favorite little walk trot pony! But don't be fooled, she loves to jump too! She carts around our tiniest ones in lessons and stands still ever so perfectly for campers.
Knock Your Socks Off
Buddy is the most adorable palomino show pony. Loves to jump and mostly to show off. When he's not scoring ribbons at local rated shows you can catch him happily teaching english and western lessons to our kids! Here he is winning 4th out of 20 in the short-stirrup hunter championship at Head of the Bay!
Eye Candy
Candy is a 2005 Dutch Warmblood mare with great bloodlines.
She is our most recent member of the HMEC family. Currently leased out to two 2'6" riders working hard to get to 3'. Candy has a lovely laid back personality on the ground and is beautiful to watch under tack.
Company Jet
CJ is one of Monika's horses, and a barn favorite. CJ took Monika through her mini medal years and now into the jumper ring. He absolutely loves his ears rubbed and really any person willing to give him love. He is a beautiful mover with a fun disposition!
Gracie
Gracie - Gracie may be our youngest school horse but she has the heart of a saint! She gladly jogs and lopes around with our beginner to advanced western riders and is learning the ropes of being a huntseat pony as well. Look out for this one in the show ring very shortly. She is one versatile QH!
Jaybird
Jay is owned and loved by HMEC's owner Ron Ernenwein. He is a beautiful solid Quarter Horse who loves reining and chasing cows. He is a frequent champion in our versatility challenges and sorting events. It is a treat to get on his back!
Jazzin Asset
Jazz is a teen-aged American Quarter Horse who has been at HMEC for years. He is often the star of our summer and vacation programs. Trained in western and english pleasure, he is as comfortable as he is cute! Don't let his size fool you, he is a big fan of the little ones and adults alike. He has had many miles in the show ring and is the perfect partner to compete with.
Just Dance
JD is an 18 year old Thoroughbred mare. She is a smooth ride with a beautiful jump. Though not for beginners she has a lot to offer the intermediate to advanced rider. When we first bought JD she was in rough form, as she became sound and healthy we realized her passion for jumping, and her talent! She is back in action this year ready to guide some of our younger riders through their first USEF shows.
Josephene
Josie is a Mecklenburg mare. A former level 4 jumper who is an amazingly honest and kind teacher. She has a lot of adults who love her dearly and compete in the lower levels with her. She is a very impressive mover, and about as adjustable as they come. She is a total treat to ride and enjoys working over fences or on her dressage movements, which are suitable for an upper level rider.
Levi's Resolution
Levi is a kind, quiet American Quarter Horse. He loves chasing cows, doing a reining pattern or helping a novice western rider learn the ropes! We love our little Levi!
Lion Heart
Linus is a beautiful BIG bay Warmblood who is a blast on the flat and over fences. He has tons of show experience, but actually prefers his newer job as a lesson horse. But of course we sneak in as many shows as we can! He loves the jumpers, and with a big stride like his it is a blast to jump him around. Happily schools 3' easy changes and has dressage training too.
Nips and Nickers
Nic is a 10 year old Registered Paint. He has tons of professional show experience reigning. Countless year end award in NRHA competition. Perfect for the more experienced reigner or for walk trot lessons (he loves to teach even the littlest ones!) Not to mention he's cute to boot!
Quintess
Quintess is owned and loved by Monika Ernewien. Quintess is a 2006 RPSI 16.3 hand chestnut mare. She has won at MHC finals and is now partnered up with Monika and embarked on an already successful show season in the juniors and Maclays.
Card Shark
Sharky is owned and loved by manager, Sheila Brady. He is a 5 year old OTTB with a beautiful style in the hunter ring. They are also embarking on their first season together. When Sheila and Sharky aren't schooling you'll find him on the trails or hanging out with his favorite mini, Elvis!
Ziggy
Ziggy is a recent addition to our western team. Owned and loved by
Julie D'Ambra. Ziggy is a perfect specimen of a cutting horse! This horse knows how to work cattle and loves every second of it. Quiet enough
to take an intermediate through a reining pattern or to chase down
their first cow.
Copyright 2017. Hillside Meadows Equestrian Center. All rights reserved.
Site designed by Jordan Harris of JHDesign